There's always a first to many things.
Against the backdrop of the pandemic where footballing activities in many a country haven't kicked off as yet, the Indian Men's National Team have been at a desert, or rather at an oasis, for over a week now (since March 15) – all for the forthcoming back-to-back International Friendlies against Oman (ranked 81) and UAE (ranked 74).
For a moment, let's push the pandemic to the background. And when you do that, you discover another first. When have the Blue Tigers ever had a line-up of matches of such magnitude against such tough oppositions? Ever? You discover another first there.
Is that all?
The average age of the National squad under Head Coach Igor Stimac is currently just over 24 (below 25). 13 of them are below 25, including a couple who are barely 19. Another first?
At the training session, Head Coach Igor Stimac's energy is infectious. He watches, he coordinates, he runs to explain and blows his whistle when needed. His wards wipe their sweat, listen and execute.
Akash Mishra, barely 19, quips: "It's a terrific challenge for us. But there's no reason that we can't rise to the occasion."
Jeakson Singh, another 19-year-old maintains: "Since the U-17 World Cup there have been ups and downs. This is a unique opportunity for me. I can't let it slip."
20-year old Lalengmawia a.k.a Apuia, the Emerging Player of the Hero Indian Super League 2020-21 adds: "The Hero ISL is in the past. I need to look ahead. If we do it together, football is easy."
"They are good boys who are extremely talented. They are boys who can play and run without fear and pass with precision. My job is to guide them for Indian Football to develop forward together," Stimac avers.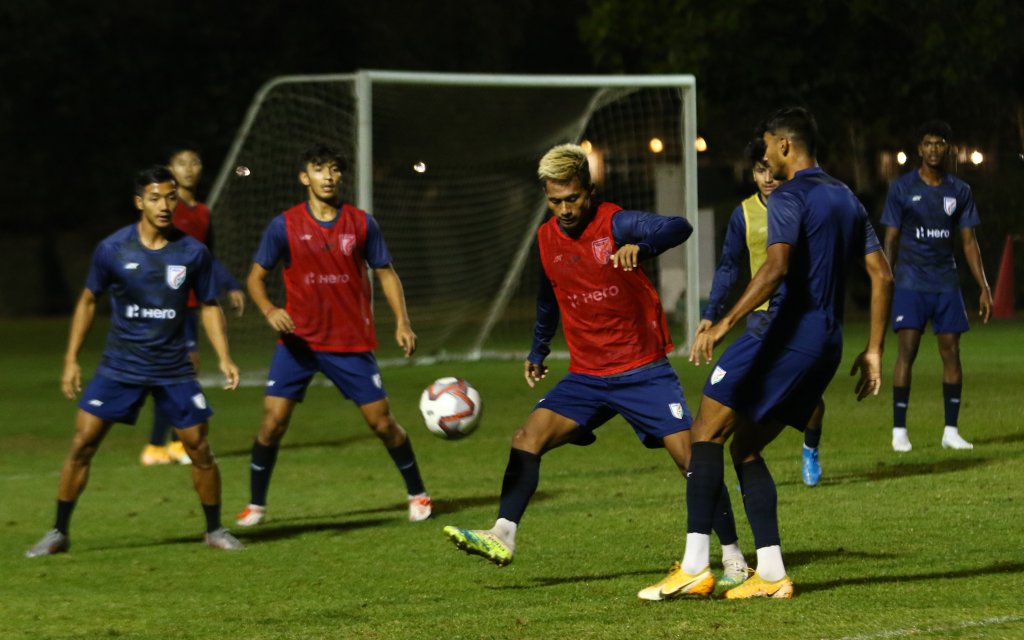 There's a cool breeze which blows across the ground  -- it's pleasant. Speeding cars glide effortlessly at a distance with the bare minimum sound, an epitome of how automobile engineering has evolved over the years. You take a 360-degree view and there are rocky sands, lush green, swanky high-rises, and the sea at a distance. With its amazing infrastructure, Dubai certainly is leading the race to be dubbed as the eighth wonder of the world.
The training has gained intensity by then, the speed has increased. Suresh Singh is 20, Yasir Mohammad, Liston Colaco, Ishan Pandita and Dheeraj Singh are all 22. And then suddenly you discover that a certain Anirudh Thapa and Lallianzuala Chhangte, both at 23, are currently veterans in the team.
But even as the young guns with their dreamy eyes and twinkling feet get ready to take on the world, the Blue Tigers will be missing talismanic striker Sunil Chhetri owing to medical reasons.
"These are practice matches which will help us to be better. We have come together after such a long time. We need to grab this opportunity. It's extremely difficult to plan such international matches during the pandemic as it's so difficult to get out of the country. We are extremely grateful to the AIFF," Thapa says in one breath.
Gurpreet Sandhu feels "it is a great opportunity to play against both Oman and UAE."
"We have played against them so often and respect them as a team, as much as I feel they respect us. We have important games coming up in June and the timing of these Friendlies just couldn't get better," he adds.
'Ironman' Sandesh Jhingan, back in the squad after an injury lay-off, and stronger than ever argues that "Oman and UAE are not way ahead."
"Everyone will agree that we need to play tough opponents. I can proudly say that we are almost neck-to-neck with them. The growth of Indian Football has been immense and it's not that Oman and UAE are way ahead of us. In the past few games, they did get the better of us but the matches were extremely close," he explains.
Amrinder Singh insists on the timing of the two matches. "As we are playing for the first time after November 2019, we need to test ourselves – both the newcomers and the rest. The matches will help us gauge where we stand at the moment. We need to stay focussed," Amrinder, fondly referred to as 'Paaji' by all, expresses.
The match against Oman at the Maktoom Bin Rashid Stadium, Dubai will be played behind closed doors, the kick-off of which is at IST 7.15 pm (UAE time: 5.45 pm). The match will be telecast live on Eurosport
TAGS :