'We were never afraid against Brazil, Norway or Argentina,' recalls Amarjit Singh
Press Release
Former India U-17 World Cup team captain and current Blue Tigers midfielder Amarjit Singh Kiyam reflected upon his days in junior football, and felt that the exposure tours made them fearless.
In a chat with AIFF TV, Amarjit reflected: "We were lucky to have played so many quality exposure tours before the FIFA U-17 World Cup. We've played a lot of good opponents like Brazil, South Africa, Norway. AIFF took good care of our team. They believed that every one of us could do something for Indian football."
The former India U-17 captain and his charges had even faced opponents like Erling Haaland (Norway U-17) and Vinicius Junior (Brazil U-17), both of whom have since signed for major European clubs like Borussia Dortmund and Real Madrid, respectively.
"We played against some of the best players in the world -- some of the best teams as well. We played against Brazil, and Vinicius was playing that match. Haaland played for Norway U-17 against us. Nawaz was an absolute rock that day -- he saved almost everything," Amarjit averred.
"We got to learn so much in those games. Their tactics, their skills, and how to counter them. We worked hard to improve ourselves during these tournaments."
A DEMOCRATIC LEADER
The young midfielder is often described by those that have played with him as a boy who quietly goes about his business. However, he was democratically elected by his teammates to bear the hallowed responsibility of being the first Indian captain in a FIFA World Cup.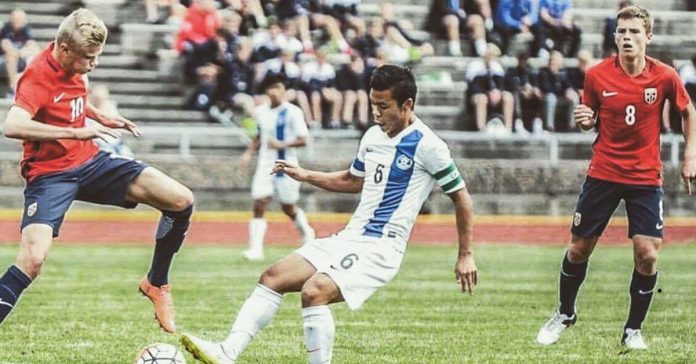 "We had a points system, where you got to pick three players. The first person on each list will get five points, the second and third will get three and one respectively," explained Amarjit. "When the coach was reading out the names, I was getting a lot of fives and threes, and ended up being elected as the captain."
"By that time I had probably spent a lot more time with my teammates, rather than with my family," he laughed. "It was a bit of a surprise but I had the feeling that everyone liked me, and that is why they wanted me to represent them as their leader."
The 19-year old went on to state that the members of the India U-17 team had developed a brotherhood that further helped them fight for each other on the pitch.
"We all developed great bonds – we were like brothers. We all wanted to defend and attack together. We all used to motivate each other," he said.
After competing in the FIFA U-17 World Cup India 2017, the Indian boys continued to play together in the Hero I-League against senior teams for two seasons for the Indian Arrows. It was during a pre-season tour of Spain during the off season, that the same team defeated Argentina 2-1 in a U-20 tournament in 2018.
Even ahead of a match against a team of such a big stature, Amarjit felt that he and the boys did not feel any jitters.
"We were about to play Argentina but we weren't afraid. It's just that when you hear the name Argentina, your brain just doubles back to check again – we really are playing Argentina!"
"We went in with the thought that we will play our hearts out and try to think about our result later. Probably were hoping for a draw, but we were ready to fight for it," said Amarjit. "Everyone was fired up in the dressing room during half time. Then Anwar (Ali) scored that fabulous free-kick, and we actually ended up winning."
FROM WORLD CUP TO THE SENIOR TEAM
The 19-year-old has come through the ranks and earned his senior International Debut last year against Curacao in the King's Cup. Since then, Amarjit went on to be a part of the Blue Tigers in the Hero Intercontinental Cup before an injury ruled him out of the 2022 FIFA World Cup Qualifiers.
"I really wanted to play those qualifiers, but I got injured before that. I remember, the coach, Sunil bhai and the medical staff came to see me. They joked that now I can eat all the cake and junk foot I want. But the coach also asked me to get back to fitness quickly. He gave me his number and asked me to keep messaging him even when I was out," recalled Amarjit.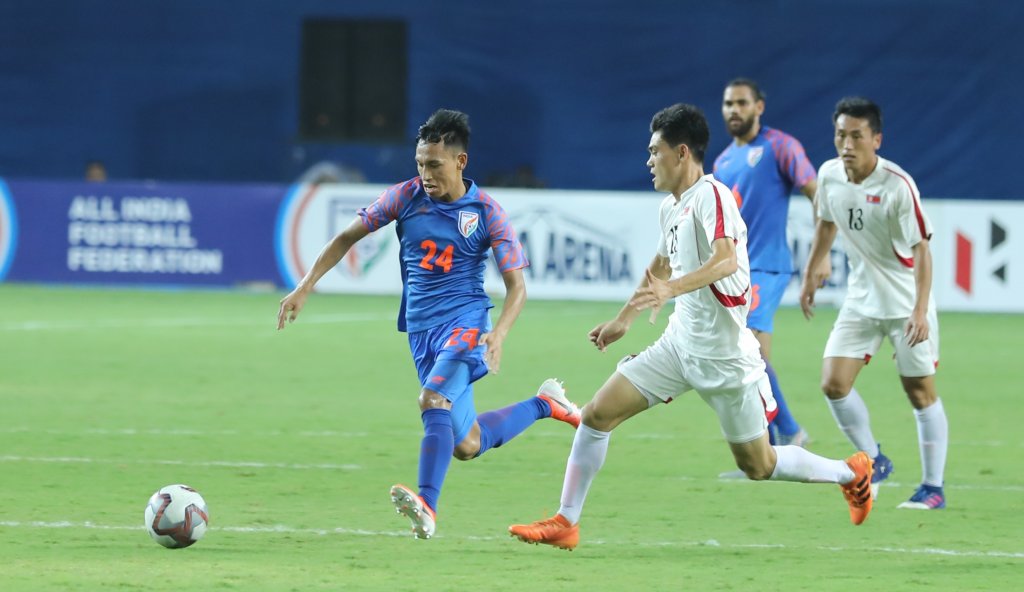 The 19-year-old has already played under a number of top coaches at different levels of the junior National Teams. While he was already trained by the likes of Nicolai Adam before the World Cup and by Matos during and after the mega tournament, he played for the Indian Arrows before turning out for the senior team.
"I've trained under a number of coaches now. I had learnt a lot in the early days under Nicolai. He told us to hard. He would say, 'If you go to press a certain player, make sure you get the ball.' He wanted us to be more aggressive," informed Amarjit.
In a similar manner, Amarjit went on to state that he had also learnt different tricks of the trade like "weighing a pass" from Luis Norton de Matos, and "planning" from Floyd Pinto. His latest National Team gaffer Igor Stimac, believes Amarjit, is not afraid to take risks by playing youngsters – something that he believes is beneficial to those like himself.
"Some coaches are reluctant to give chances to the youngsters. But he (Stimac) looks at the bigger picture and works towards the future. He encourages us, even when we make mistakes. Narender and I are lucky that we are training under him," said Amarjit. 
TAGS :